From single product to system solution, the era of intelligent lighting is coming soon
January 16 11:18:00, 2021
Smart lighting has developed rapidly, and related technologies and networked systems have gradually matured. For example, Bluetooth Mesh network, Internet of Things, and Wi-Fi are all indispensable promoters of smart lighting.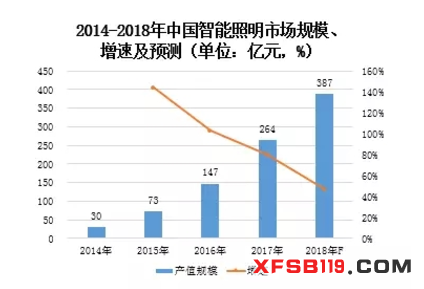 According to the data of the High-tech Research Institute LED Research Institute (GGII), the size of China's smart lighting market reached 26.4 billion yuan in 2017. GGII expects the smart lighting market to reach 38.7 billion yuan in 2018, up 46.6% year-on-year.

The huge market prospects attract many corporate layouts. Philips Lighting signed a cooperation agreement with Huawei and Xiaomi to promote home smart lighting; GE launched the latest intelligent lighting product CbyGE; Op Lighting cooperated with Huawei to release intelligent lighting system; NVC Lighting and Haier Home involved in smart home building eco-sphere; Sunlight and Jingdong Practice internet + LED lighting together.

In view of the fact that domestic and international lighting giants have strengthened the layout of intelligent lighting, foreign lighting companies have joined forces with Internet companies, so we can boldly predict that the era of intelligent lighting is near.

At this year's Hong Kong Spring Lighting Fair, smart lighting has become a highlight of this year's show. Well-known enterprises including TCL lighting and graffiti intelligence have displayed intelligent lighting products and systems. In addition, the organizer, the Hong Kong Trade Development Council, also specially organized a special forum for intelligent lighting.

TCL Lighting's debut products are mainly focused on intelligent lighting, such as TCL smart ceiling lamps and downlights. It is equipped with Zigbee-based lighting control system. Through Philips Hue, the lamps are connected with Amazon Alexa. Humanize.

TCL Lighting Sales Director Guan Wei told Gaogong LED that we also showed smart lighting solutions at this year's Frankfurt exhibition in Germany. He said that in the past, smart lighting did not rise much because the manufacturers did not really solve the user experience problem.

Guan said that in the future, intelligent lighting needs to focus on the interaction between people and lighting equipment, the interaction between lighting equipment and the environment, and the control methods should be diversified, and the user operation is simple. Only in this way can intelligent lighting be truly welcomed and supported by consumers.

Graffiti Intelligence not only shows the Bluetooth Mesh array, but also shows the whole house smart solution. Taking the intelligent lighting system of graffiti-enhancing as an example, the intelligent light has three characteristics of voice control, automation and scene. The user can adjust the brightness, color and color temperature through the voice interactive command. The smart light itself automatically adjusts the brightness of the light according to the external environment, and is linked with other intelligent devices, and can also adjust to the corresponding parameters according to the preset scene mode.

According to the staff of the graffiti intelligent exhibition site, the current intelligent lighting solution for graffiti supports WiFi, Bluetooth, ZigBee, GPRS and other networking modes.

In addition, Graffiti Smart Whole House Intelligence is a series of solutions based on the AIOT platform. It is understood that graffiti also provides partners with a highly compatible voice portal. Graffiti Intelligence is the only platform that fully unlocks the mainstream voice interaction portals such as Amazon Echo, GoogleHome, Tmall Elf, and Ruoqi. It is also the world's largest voice AI interactive platform.

This graffiti intelligently participated in the Spring Light Show, with its intelligent solutions and powerful platform effects, and the integration of upstream and downstream resources, which attracted the attention of enterprise users.

Of course, in addition to being able to witness a wide range of smart solutions, the Hong Kong Spring Light Show site can also hear the different opinions of the big coffee. In particular, the various wireless connection technologies have formed their own support camps.

Among them, about Bluetooth technology, Bluetooth Technology Alliance Asia-Pacific developer relations manager Ren Kai pointed out that smart lighting or smart networking system is composed of multiple devices, so the communication and interconnection between devices, you can use Bluetooth Mesh. By deploying network nodes, devices transmit signals in a relayed manner to form a reliable network without dead ends.

In addition, Bluetooth has high interoperability. For example, switches, lamps, and sensors all have a unified definition, which allows products from all over the world to work together to help spread technology.

However, Wi-Fi is an early development technology (currently there are about 8 billion Wi-Fi devices in the world). In addition to its strong penetrating power and long transmission distance, it is also comprehensive and rigorous in terms of alliance authentication.

Feng Jianbo of DEKRA Dekai Group, a testing and certification organization, said that Wi-Fi certification projects cover interoperability and security , connectivity convenience, applications and services, technology optimization and so on.

In addition, the Wi-Fi Alliance is also implementing the Wi-Fi CERTIFIED HomeDesign program, which allows developers to directly build Wi-Fi into the architectural design. After the purchase, the purchaser does not need to purchase the WAP. Smart home can be said to go further.

But it must be mentioned that no matter which kind of connection technology emerges, it is to solve the user's problem. If various wireless connection technologies cannot be effectively compatible and seamlessly connected, it will cause trouble for consumers.

Summary: In any case, it can be seen from the Hong Kong Spring Lighting Fair that smart lighting, whether it is lighting companies or Internet platform-based enterprises, is more inclined to systematic solutions at this stage, and then practically solve the problem for users. Troubled. I believe that in the Internet of Things era, the future of intelligent lighting will become more and more clear.
Looking for a custom Valve Rod manufacturer in China? Need Valve Rod designing and manufacturing in China? Custom Brass Faucet Fitting production services needed? No problem, contact us now and find out how we can help you. We accept small orders and can handle high-volume orders up to millions of parts.
Valve Rod

Valve Rod,Brass Valve Rod,Faucet Valve Rod,Brass Faucet Valve Rod

JIANGMEN YILIN PRECISION MANUFACTURING CO.,LTD , https://www.ylseiko.com